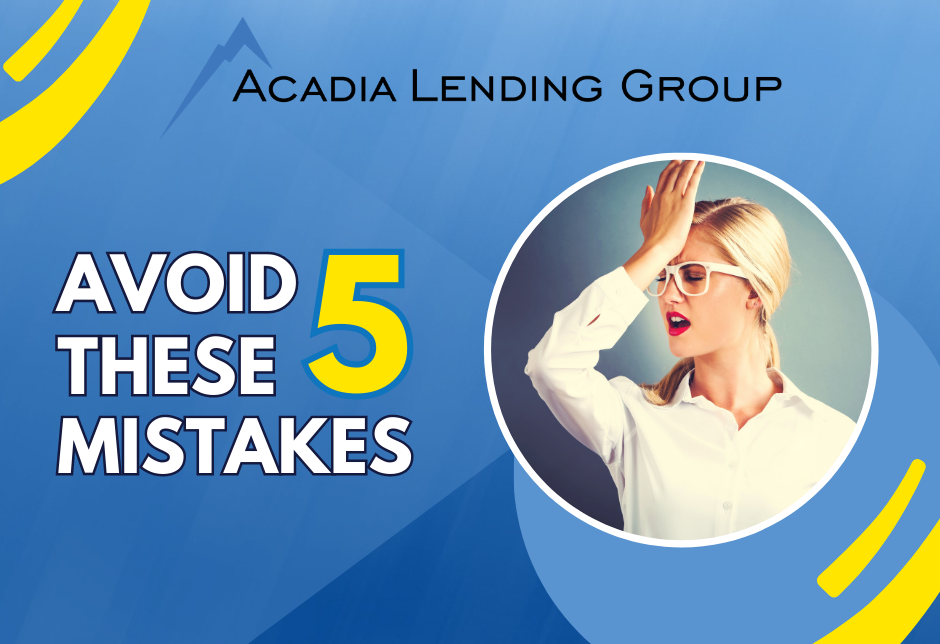 Avoid These 5 Mistakes To Land Your Dream Home
Currently in this market, the number of homes for sale in Maine and New Hampshire is lower than average. Especially "starter" homes in a first time homebuyer's price range. That means that as a first time homebuyer, you're not only shopping for a property you want, but you're also looking to beat out all the other homebuyers who want to put an offer on it as well. To land your dream home, you're going to need a solid strategy (and a mortgage advisor!). Make sure that you avoid making the following mistakes below.
Here are 5 mistakes to avoid making:
Waiting too long to make an offer. In the current market, the home-buying competition is fierce. You'll need to move quickly if you find yourself in love with a particular home. While we don't suggest making impulsive decisions that you might regret, if you wait too long to put in an offer, you risk losing out to more determined and motivated borrowers. There will almost certainly be at least one more interested party and the chances that they will offer more than the asking price is fairly high right now. Know what you can afford, and look at houses within or below your means, so when the time comes, you will be able to offer a little more than what they are asking. Which bring us to the next mistake to avoid – a VERY important first step.
Skipping the pre-qualification process. This is where a mortgage broker like Acadia Lending Group comes in. Pre-qualification should be the first step in your home search process. A pre-qualification means that your finances and credit have been checked by your lender, and it proves to the seller that you're serious about your offer. This can be key in a competitive seller's market. It also determines how much home you can afford, so that you know the price range to search in. The amount you are pre-qualified for is not necessarily the final maximum you can afford on your home purchase – if you think that your finances can handle more mortgage, you can take action to increase your mortgage pre-approval amount. Things like improving your credit score, boosting your income, or paying off other debts can affect the amount of the pre-approval. If you are curious what you would be pre-qualified for, we offer a free questionnaire that you can fill out in under 60 seconds!
Working with an inexperienced real estate agent. Working with an inexperienced agent could present you with potential risks and challenges. An inexperienced agent may lack the necessary knowledge and expertise to navigate the complexities of the real estate market, resulting in missed opportunities or misguided advice. They may struggle to accurately assess property values, negotiate effectively on your behalf, or anticipate potential issues during the transaction process. Additionally, a lack of familiarity with local neighborhoods and regulations could lead to poor property recommendations or legal pitfalls. Opting for an experienced real estate agent ensures a smoother and more successful home-buying experience, as their expertise and industry know-how are invaluable in helping you find your dream home and secure a fair deal. Acadia Lending Group would be happy to connect you to some of the most experienced and trusted realtors in our network.
Having unrealistic expectations about the home inspection and any repairs. While a thorough home inspection is essential to uncover potential issues, expecting a completely flawless property is impractical and may lead to disappointment. Every home, even new ones, will have some imperfections. It is essential to focus on significant structural and safety concerns rather than minor cosmetic flaws. Moreover, demanding that the seller address every minor issue uncovered during the inspection could jeopardize the deal and create unnecessary tension. Prioritize negotiating on major repairs or safety concerns while being prepared to handle smaller maintenance tasks on your own. A realistic approach to the inspection process allows for a smoother buying experience and fosters a more reasonable and successful negotiation with the seller.
Low-balling the price. While it's natural to want to secure a good deal, excessively undervaluing the property can alienate the seller and jeopardize the negotiation process. Low-balling may signal a lack of seriousness to the seller or give the impression of being unreasonable. Instead, it's crucial to conduct thorough research on the property's market value and make a fair and reasonable offer based on comparable sales and current market conditions. A balanced approach allows for a more constructive negotiation and increases the chances of reaching a mutually beneficial agreement with the seller while maintaining a positive and respectful relationship throughout the buying process.
If you would like more first time homebuyer tips, tricks, secrets and strategies – we have a couple options for you! First, we have a free webinar that you can watch! We also have a free First Time Home Buyer's Guide that you can download. Our expert loan officers are also a wealth of knowledge. You can learn more about them on Our Team page or give our office a call. Not sure what some of the words in this article even mean? Well, we've got a mortgage terminology glossary for that, too!
Remember, choosing a mortgage lender that has a knowledge of the local market and is transparent and honest is key to a successful homebuying experience. Avoiding these mistakes should help lead you on the right path to land your dream home. If you have any questions at all, Acadia Lending Group would love to help! Just give us a call.