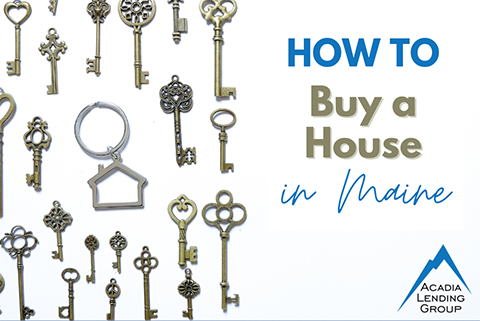 How to Buy a House in Maine
How to Buy a House in Maine
Whether you're planning to move to Maine or already in state and looking for a new home, buying a house in Maine is an exciting new chapter to start! There are a lot of factors that go into buying a home such as your financial situation, market environments, and what type of home / part of Maine you're hoping to move into. Here are some helpful tips to guide you through the home purchasing process, with hopes of mapping out how to buy a house in Maine.
Save for a down payment
It is a good idea to have a plan in place not only for a down payment, but to have some money set aside for closing costs and emergency funds. It is typically harder for first time homeowners to have a higher down payment, because they do not have the advantage of having money from the sale of a previous house.
While there are benefits to a larger down payment, you should balance the pros and cons. With a larger amount down, that money is no longer available to make other purchases or investments, so there is an opportunity cost. That money will also be tied up in your home, making it less liquid than cash.
The amount you have available for a down payment is an important factor in your mortgage payment, your DTI, and what price of house you should be looking for. You can find our helpful free mortgage calculator tool on our website.
Get pre-approved for a mortgage
Using a local lender goes miles when looking to get a mortgage in Maine. Local lenders not only know the area and market, but are reliable and will work with you to best fit your home purchasing goals. A pre-approval letter is a document from a lender stating what the lender is tentatively willing to lend to you, up to a certain loan amount. The lender will review your credit report, verify your income, and assess your assets and debts. Some documents you may need include:
W-2 tax form
Bank statements
Pay stubs
Two years of income tax returns
There are many types of loan programs depending on your individual financing needs. Some loans require as little as 3% down payment. Even if you're credit score might not be where you want it, a local Maine mortgage lender will work with you help boost your score.
Partner with a real estate agent
When a real estate agent sees that you've been pre-qualified, they know you're a serious buy and can better help you find the house that fits your needs. Understanding what you can afford and type of home you are looking for makes the home buying process smoother and quicker. A real estate agent can then show you homes in towns and areas that fir your lifestyle and family criteria.
House hunting and making an offer
After looking for homes and finally finding the one, it will be time to make an offer! Here are some questions to consider when deciding how much you want to offer:
How long has the house been on the market?
What are other homes listed for in the area?
What have other homes sold for in the area?
Do you expect to be competing against other buyers?
Are there repairs or renovations that need to be made?
TIP: If there are repairs that are needed that you do not want to be responsible for, you can ask the sellers to complete those repairs before you purchase the home.
As you can see, there are a lot of steps involved in ensuring you are ready to purchase your first home. The more you know and the more prepared you are, the more seamless the process will be. Feel free to check out our many other blog articles with in-depth information on how to buy a house.
Feel free to reach out to one of our experienced lenders or sign up for our free webinar where we cover the strategies to getting the home of your dreams!