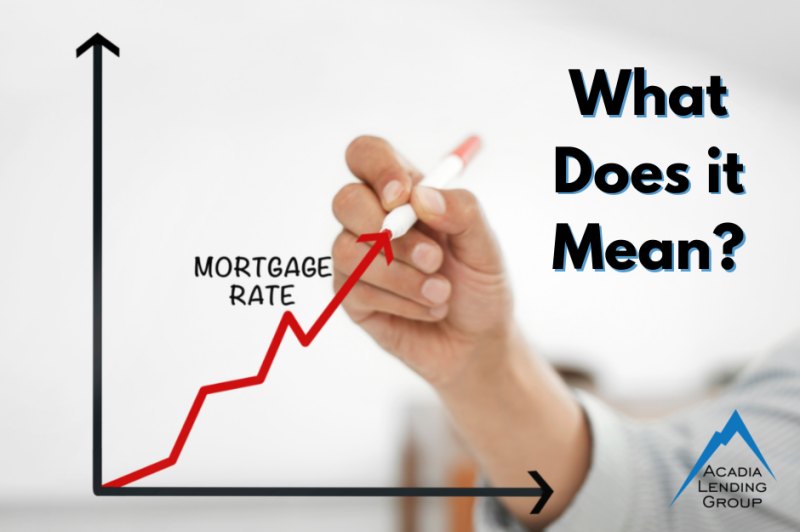 Why Mortgage Rates Are Rising And What It Means For Home Buyers
Why mortgage rates are rising and what does it mean for home buyers?
For a long time, we've been talking about how interest rates have been at historic lows. If you've been paying attention, you've noticed that now things are trending in the opposite direction, and we're seeing rates rising significantly. What's causing the increase? There are a few notable factors that are contributing to higher interest rates.
Fed's first interest rate increase since 2018
In March, the Federal Reserve approved a 0.25 percent point increase for the first time since 2018. Why does this matter? While the Fed doesn't directly set mortgage rates, it does determine the federal fund rate, which is the rate at which financial institutions lend money to each other. Put simply, higher costs here get passed on to consumers, resulting in higher interest rates on a number of short and long term loans. The committee has indicated that there will be additional increases at each of the six remaining meetings of 2022, so this is something to keep an eye on over the course of the year.
Inflation and oil prices are on the rise
While Russia's invasion of Ukraine led to an immediate drop in U.S. mortgage rates, the dip was short lived and the ongoing conflict is expected to continue contributing to rate volatility. The war is just one of many factors contributing to higher oil prices, which ultimately trigger inflation. Inflation in turn has a direct effect on interest rates, making investors more careful with their money and causing lenders to increase rates as a way to continue to bring in revenue to fund mortgages.
Is now still a good time to buy?
While it may seem counterintuitive to purchase a home when interest rates are on the rise, it's a conversation that's worth having with your lender. If you are actively looking to invest in a home that you're planning to stay in for some time, it still may make sense to move forward with your search as mortgage rates may continue to rise in the near future. Additionally, higher mortgage rates can contribute to rental inflation as people move from the buyer market to the rental market. From a buyer's perspective, this means less competition – while on the flip side the rental market will be busier than ever with the potential for higher rents as the demand increases.
Next steps for home buyers
As always, it's important to reach out to a mortgage lender early on in the home buying process. A knowledgeable lender can guide you through the process step-by-step, including informing you about trends with interest rates and anticipated fluctuations. One of our expert loan officers at Acadia Lending Group would be happy to help find the solution that's best for you.